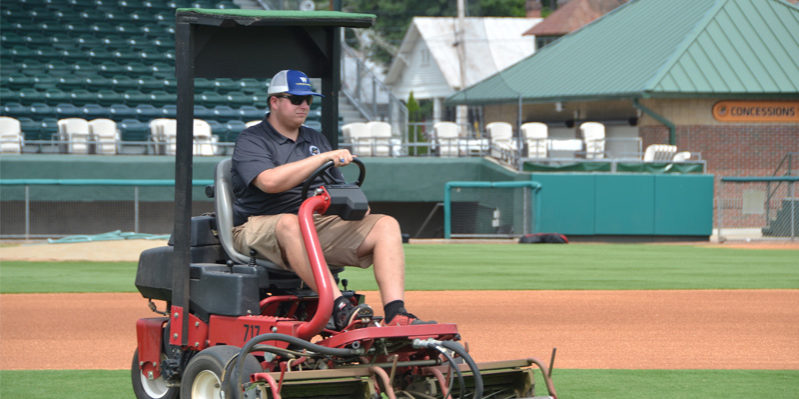 Logan Robinson Spent the Summer with the Down East Wood Ducks
Logan Robinson's days on the ballfield this past summer were anything but lazy; he was earning both money and college credit.
Through Work-Based Learning, the Wayne Community College Turfgrass Management Technology major was able to combine a job at Grainger Stadium in Kinston with a college course.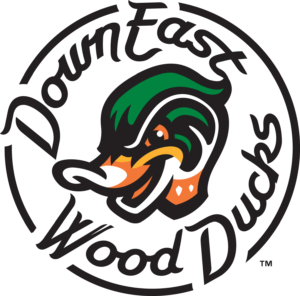 While helping to keep the field in tip-top shape for the Down East Wood Ducks, he was applying what he had already been taught in the classroom and learning new lessons from his supervisor, Head Grounds Keeper Stephen Watson.
"I am the assistant here. Everything Stephen needs me to do, I help him do it," Robinson said. "I do everything from cut the outside areas, edge sidewalks, help spray chemicals on the field, weed-eat, all that kinds of good stuff – typical ballfield management stuff. We also paint lines every home stand or so. I've got it all down pat now," Robinson said when interviewed at the stadium in July.
Watson agreed. "He is basically my right hand man. He can serve if I need to be off. He can certainly take over and be the guy in charge."
Work-Based Learning allowed Robinson to use knowledge he gained in his classes. "I'm actually putting it to work here. Like they say here, this is where the cleat hits the clay. This is where it gets going. Everything you learned in class, you put into action here."
Watson takes the experiences he gives college students beyond the technical aspects of the job. "To get them into the decision-making and to help them understand [the process] instead of just, we go out and put lines on a field or we go out and drag the infield – that's easy stuff. It is all the other stuff that I'm thinking about on a daily basis. He gets to see all of that and gets to understand why certain decisions are made at the times they're made."
"I try to explain to them why I am making the decisions that I am making to help them understand so when they move on into their future career they understand what they have got to do, so they at least got their feet wet and can have a basis for making decisions on their own," Watson said.
"For turfgrass, this is very important. It helps them to get the hands-on experience so when they get into the workforce, they know what they are doing," said Turfgrass Instructor Rob Woods. "It also gives them the opportunity to find that area in turfgrass that they want to stay in for a career."
"I don't think I'd be prepared at all, to be honest," without this Work-Based Learning opportunity, Robinson said.
Plus, "It has tremendous value. How often can you say you worked with a professional in the field that you wanted to be in?" Robinson said.
After Robinson graduates in May 2018, he plans to continue his education at N.C. State University. From there he knows he wants a career in "sports turf" and would be happiest working at a football or baseball stadium, or maybe even on a golf course. Ultimately, he said, "I'd like to be a head groundskeeper for a major league team like the Boston Red Sox or a football team like the Seattle Seahawks, somewhere in sports territory like that."
Turfgrass Management Technology is one of five Wayne Community College programs that have Work-Based Learning as a required component. The other four are Agribusiness Technology, Applied Animal Science Technology, Human Services Technology, and Sustainable Agriculture.
Other majors have Work-Based Learning as an elective. They are Accounting, Automotive Systems Technology, Business Administration, Collision Repair and Refinishing Technology, Computer Programming and Development, Computer-Integrated Machining, Database Administration and Data Center Technologies, Industrial Systems Technology, Information Technology Business Support, Medical Office Administration, Network Management, Office Administration, and Simulation and Game Development.
Turfgrass requires 320 hours of Work-Based Learning and students earn two credit hours for it. Other Work-Based Learning courses, such as Collision Repair and Refinishing Technology's elective, have students work 160 hours in a semester for one credit hour.
Work-Based Learning can be paid or volunteer. Some organizations have been so impressed with student volunteers that they added them to the payroll during the term. It is also not unusual for a company to ask a student to continue working for them after the Work-Based Learning experience has ended.
For students in Wayne Community College's Turfgrass Management Technology program, Work-Based Learning often leads to a career with the company that hosted them, Rob Woods reported.