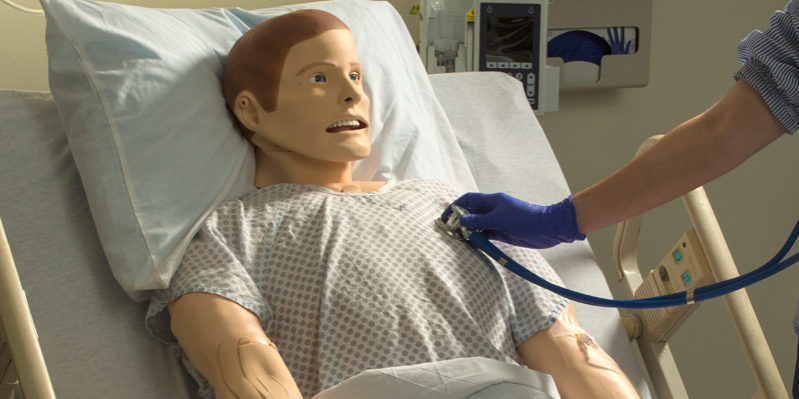 Everybody makes mistakes, right? You can take advantage of your mistakes and learn from them, or you can just ignore the opportunity and make the mistake again.
This may be a luxury in many careers, but in the world of nursing making a mistake can be a matter of life and death. So when it comes to practicing your nursing skills it certainly seems logical that doing so in an environment as close as possible to the real thing would be the best way to learn.
The nursing program at WCC has had patient simulators and simulated hospital rooms for many years, but until a recent renovation project that included a Simulation Laboratory, the simulators were not fully functional and could not be used to their full extent.
The program now boasts a 10-bed Simulation Lab complete with high-fidelity manikin patient simulators, full-sized hospital beds, hospital cribs, functional headwall units, crash carts, and more. The lab includes a control room where a simulation coordinator controls the vitals of the patient simulators and the reactions and condition of the patient simulators.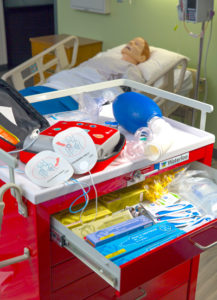 High-fidelity manikin patient simulator really doesn't sound personal, so the manikins are referred to as patients, which in the simulation environment that is exactly what they are. They are on their backs in the hospital bed, and they can be made to look like they are breathing. They can simulate bodily fluids like blood, urine, and bowel. The patients have areas on the arms where an IV can be inserted. They can basically simulate everything but that of a patient walking.
Behind mirrored windows in a room that has a view of the entire Simulation Lab, the simulation coordinator can make the patient react to something the student is doing, to see how the student will react and to see if the student makes the right decisions based on the patient's status and situation. The coordinator can cause the patient to simulate many things including blood pressure dropping or rising, change in the heart rate, or even cause the patient to completely crash.
The end goal is to help students learn from their mistakes, help them see what it feels like to be in the middle of a dire situation, and help them be prepared to handle these situations in the real world – all without hurting anyone. "This is the closest thing to working on real patients without working on real patients," said Patty Pfeiffer, Dean of Allied Health. "We can put the student into a real-life scenario that they could come into contact with in a hospital setting, and allow them to act upon it without the fear of hurting someone," she added.
Above each of the hospital beds are fully functioning headwall units. Just like at a hospital, these units include oxygen, suction, and such. The only difference between the headwall units in the lab and those you find in a hospital setting, the Simulation Lab units simulate oxygen flow that you can hear and see the silver ball moving, and the suction is simulated. These are features the old headwall units could not do.
With assistance from the Foundation of Wayne Community College, the nursing program was able to purchase two crash carts, one for adults and one pediatric. These carts have rows and rows of small drawers that contain all types of materials, simulated drugs, and devices necessary to perform a code on a patient. "Until now, we didn't even have crash carts because we had no way to run a full code. But with the features we now have in the Simulation Lab, we can do a full code." Pfeiffer said.
But even with all of the real-life equipment the WCC nursing students now have access to, the nursing instructors say that the addition of an audio/visual recording system may be the biggest and best thing that was included in the Simulation Lab. The A/V system captures the students' activity, both video and sound, and at that exact same time, the simulation patient's vitals and reactions are being recorded. "In the debriefing of the video, students can see the patient's reaction of them doing something like administering a drug and it causing the heart rate to increase," said Sue Beaman, Nursing Department Chair.
Seeing a video of the patient's reaction is important, but Beaman said where the real learning comes is from when the student's see their own reactions. Beaman told about when she had a student who administered a drug to the high-fidelity manikin and the simulation coordinator caused the patient to have an allergic reaction. The student froze up for several seconds before she realized that she needed to take action, and of course, she did and was able to properly assist the patient. But it was in the debriefing of the video that made the difference. "The student had no idea that she froze up, or how long she stood there before she reacted," Beaman said adding that with the video, the student was able to see her how she reacted and learn from it.
Pfeiffer said her nursing department team planned the Simulation Lab to be more than a place to train nurses, that their intent was for it to also work for some interdisciplinary training opportunities. She said that they hope to eventually work out a scenario where all of the allied health professions they teach could come together to make the lab almost feel like a full-service operation of a patient going through all the steps of receiving services from the medical lab, medical assisting, the pharmacy, and the nurses.
Wayne Community College's nursing program has always been revered for its quality of instruction, attention to detail, and its track record of producing qualified nurses for the workforce. The Simulation Lab will only help take the program to another level as students take advantage of all it has to offer.
Medical Assisting
The Medical Assisting program provides high-quality educational experiences to prepare qualified graduates for medical assisting positions in physicians' offices, clinics, or other medical settings. Administrative duties of the Medical Assistant include scheduling and receiving patients; maintaining medical records; handling telephone calls and office correspondence; filing insurance claims; and maintaining office accounts. Clinical duties include preparing patients for examination; obtaining and recording vital signs; taking medical histories; assisting with examination and treatments; collecting specimens and performing routing office laboratory procedures; providing patient instruction for diagnostic test, x-rays, and office procedures; and providing appropriate care in emergency situations.
Medical Lab Technician
If you like science, solving mysteries, and teamwork, Medical Laboratory Technology may be the career for you!  The Medical Laboratory Technology (MLT) curriculum at Wayne Community College will prepare you to become a valuable part of a medical team of pathologists, technologists, and technicians working together to provide information to aid in the diagnosis, monitoring, and treatment of disease.  Highly qualified MLTs perform clinical laboratory procedures in chemistry, hematology, microbiology and immunohematology.
Pharmacy Technician Certificate
The Pharmacy Technology Program seeks to provide qualified students with the technical skills and knowledge needed to practice in a variety of pharmacy settings. Pharmacy technicians must have a broad knowledge of pharmacy practice, and be skilled in the techniques required to order, stock, package, and prepare medications.
Pharmacy technicians help pharmacists provide drugs and other health care products to patients. Pharmacy technicians may perform duties under the direct supervision of a pharmacist. The duties of pharmacy technicians include review prescriptions or requests for refills, fill prescriptions, count, pour, measure, or mix the medication, select a container, and prepare and attach a label, price and file the prescription. In addition, the pharmacy technician takes inventory of prescription and over-the-counter drugs. Pharmacy technicians work in hospital pharmacies, retail pharmacies, home health care pharmacies, nursing home pharmacies, clinic pharmacies, nuclear medicine pharmacies, and in-mail order prescription pharmacies.