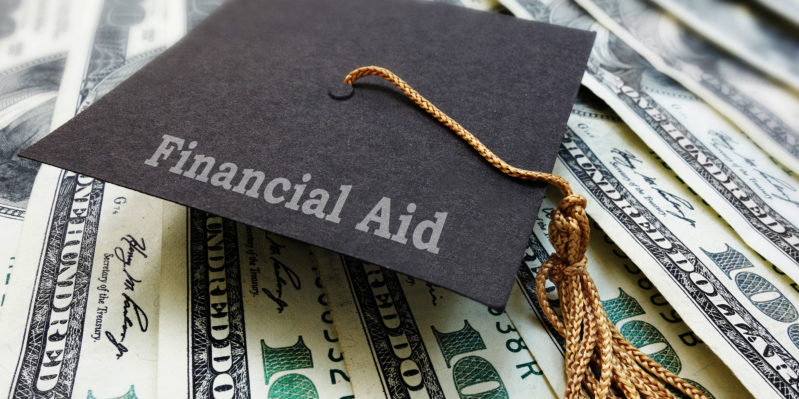 Wanting to get started on your bachelor's degree or train for your dream career but don't think you can afford it? Wayne Community College is your answer.
Not only is WCC affordable, but there are more financial assistance options than many people realize.
Tuition and fees for a full-time college-credit student who is a North Carolina resident total $1,262 per semester. That is a tenth of the cost to attend the closest private college as a commuter and less than a fifth of the cost of tuition and fees for a commuter student at the closest public university.
Whether students want to attend full or part time and take college-credit courses or complete short-term workforce training, WCC offers several possibilities for financial assistance.
"No student should not be attending because of finances," said Katrina Lee, WCC Director of Financial Aid and Veteran Services.
The key is completing the Free Application for Federal Student Aid (FAFSA®) form, Lee said.
"For most students, we can help. You need to fill out the FAFSA. You may qualify even if you think your parents make too much," she said.
When you apply for financial aid, you are considered for all aid programs administered by the WCC Financial Aid Office. That assistance can be grants or scholarships from federal, state, or institutional student aid programs.
"Our goal is to make college accessible," Lee said. "If they are struggling, they should talk to us."
Applying for financial aid for college credit programs at WCC requires just a few steps.
Apply for admission to WCC.

Complete the FAFSA at www.studentaid.gov. Be sure to include WCC's School Code (008216) on the form. The WCC Financial Aid Office will contact you if more documents are needed.

Apply for scholarships. Watch the college's website for postings of scholarships and their deadlines. Deadlines are usually six weeks before the start of the semester.

WCC's Financial Aid Office will send you an aid offer that lists the type and amount of aid you may be eligible to receive.
"The earlier you can get this done, the more relaxed you can be," Lee said.
Lee said that if students are having difficulties completing the FAFSA, they can ask for help from WCC Financial Aid personnel. The Financial Aid Office is located on the first floor of the Wayne Learning Center on the college's campus in Goldsboro and questions can be directed to [email protected]
Lee pointed out some of the aid now available.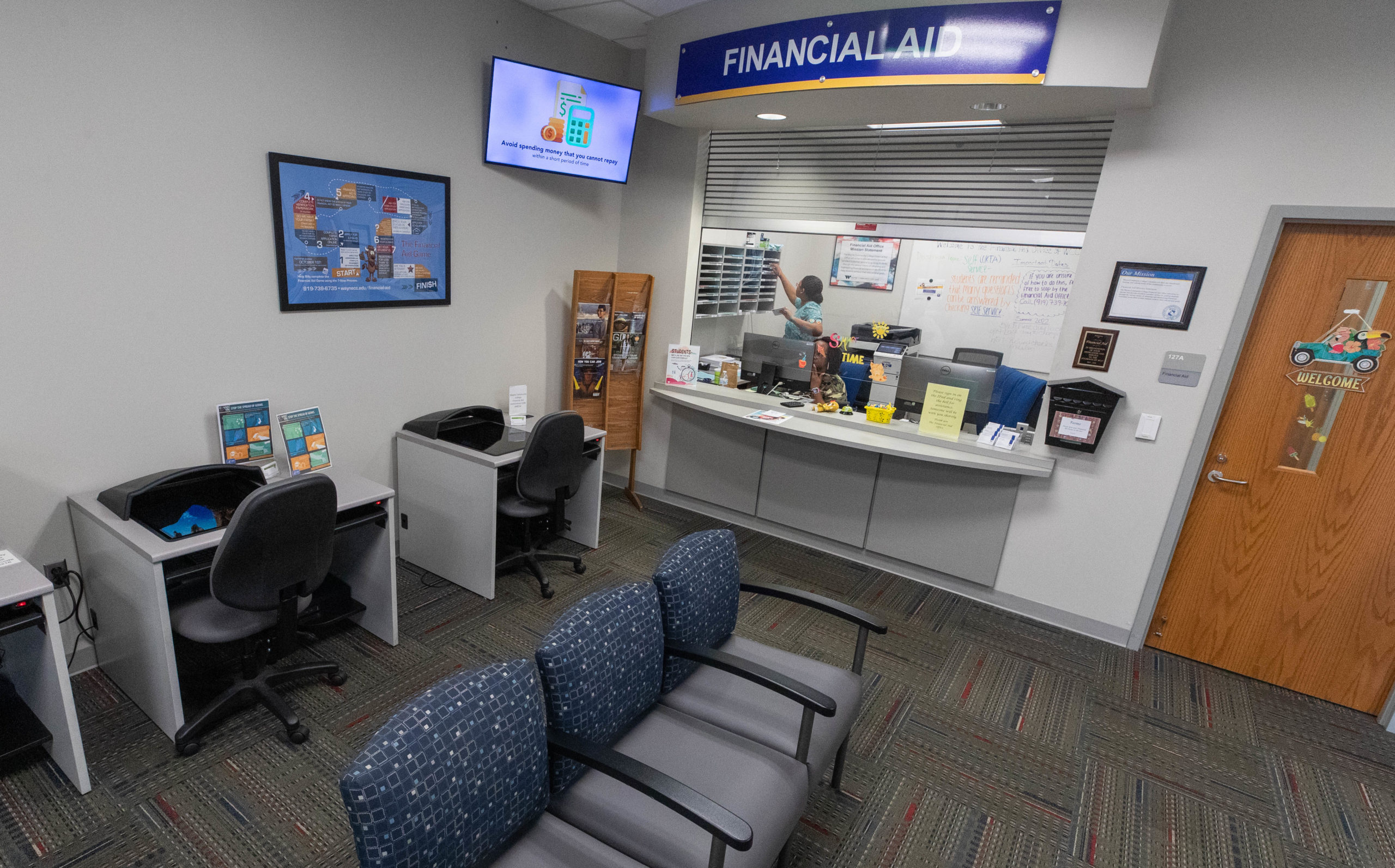 North Carolina Longleaf Commitment Grant
If you're a 2022 graduate of a North Carolina high school who plans to attend Wayne Community College in the fall 2022 semester, you can have your tuition and fees covered for up to two years. Full-time eligible students can receive $700 to $2,800 per academic year, for a total of two years. Less than full-time students may receive a partial award.
Members of high school classes of 2020 and 2021, if previously receiving the North Carolina Longleaf Commitment Grant, can continue to get it as long as their Expected Family Contribution (EFC) is still in the eligible range. This is determined by the annual FAFSA results.
Longleaf Complete Grant
Students who were at least halfway through a college-credit program of study and have not returned since spring 2020 may be eligible for a Longleaf Complete Grant if they return in the next year. All you need to do is complete the FAFSA to be considered.
Pell Grant
This grant is awarded based on your financial need, cost of attendance, enrollment status, and whether you will attend school full time or part time, and how long you will be attending.
Private and Non-profit Scholarships
Scholarships are available through both the WCC Financial Aid Office and the Foundation of Wayne Community College.
The Financial Aid office provides access to some private and non-profit scholarships. The list can be found on the WCC Financial Aid webpage at waynecc.edu/scholarships. Applications for specific scholarships can be downloaded from there and submitted to the Financial Aid office. "Our applications are not complicated," Lee said.
Students should check the website regularly. "We post online scholarship applications that have deadlines for each semester," Lee said.
"Don't assume you are not going to get the funds just because it is a large foundation," said Lee. "Money is being left on the table because people are not applying. The donors want us to spend the money."
Foundation of WCC Scholarships
The Foundation of Wayne Community College also offers scholarships for tuition, books, and fees. Students don't apply for a specific scholarship. Instead, they are matched to appropriate scholarships based on the information they provide on their application.
Foundation scholarships are funded by individuals, businesses, and civic organizations that want to provide learning opportunities for deserving students.
The Foundation's application period is ongoing. Applicants must have already applied to the college and completed their FAFSA before submitting the Foundation scholarships form online. You can find the link to the application at waynecc.edu/foundationscholarships.
There are other options of forms of aid available to WCC students.
Federal Work-Study
Work-study is a federal program that provides part-time work – usually 10-12 hours per week – on campus or at a local nonprofit that allows students to earn money to cover their educational expenses.
"This is a professional job to put on your resume," Lee said. "It gives you experience, a foot in the door, and a reference."
Child Care Assistance Grants
Child Care Assistance Grants offset the costs of child care in a licensed center while students are attending school.
Federal Veterans Affairs Education and Training Benefits
Federal Veterans Affairs Education and Training Benefits assist military veterans, service member dependents, and spouses. There are also scholarships specifically for these groups. Students should contact School Certifying Official Elvira Simmons at (919) 739-6739 or [email protected] about VA options.
North Carolina Tuition Assistance Program
Army and Air National Guard members may be eligible for the North Carolina Tuition Assistance Program. Guard members should use the NC National Guard Student Portal at waynecc.link/ncguard to get information and register.
Loans
Consumer loans are available from various lenders. These must be paid back with interest. Wayne Community College encourages students to explore other options before considering loans.
Payment Plan
If you can afford to pay for college yourself but want to spread out the payment process, Wayne Community College offers an interest-free payment plan. Students pay an enrollment fee and make automated monthly payments. Get more information on the payment plan at the Nelnet Campus Commerce website at waynecc.link/paymentplan.
Assistance for Short-Term Training Programs
Students in short-term workforce development programs may also be eligible for grants and scholarships, some of which cover tuition, fees, books, supplies, credentialing tests, transportation, childcare, and other costs related to attending classes.
---
Explore details about financial assistance available to WCC college credit students on our Financial Aid webpage at waynecc.edu/financial-aid.
For more information on financial assistance available to short-term workforce training students, go to the Workforce Continuing Education webpage at waynecc.edu/workforce or contact Maxine Cooper at [email protected] or (919) 739-6938.