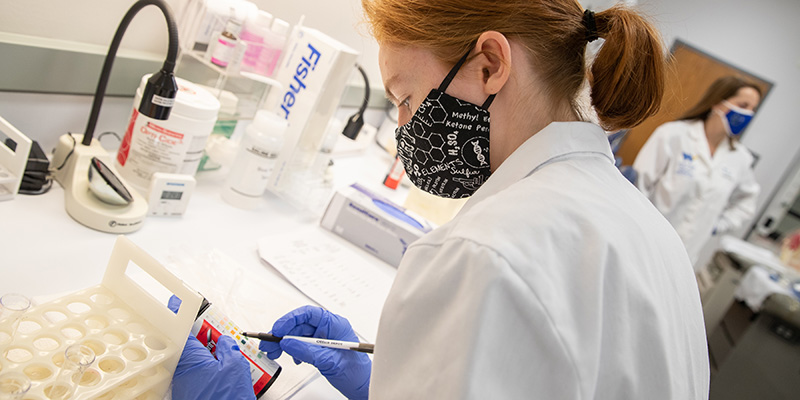 Landry Harrell discovered that sometimes life's detours take you to pretty good destinations.
Within days of earning an associate degree in Medical Laboratory Technology (MLT) from Wayne Community College (WCC) in May 2022, Landry took and passed the national certification exam for her field and started work.
It wasn't what she had in mind when she graduated from Wayne School of Engineering (WSE) in 2020 and planned to become a Marine Biologist.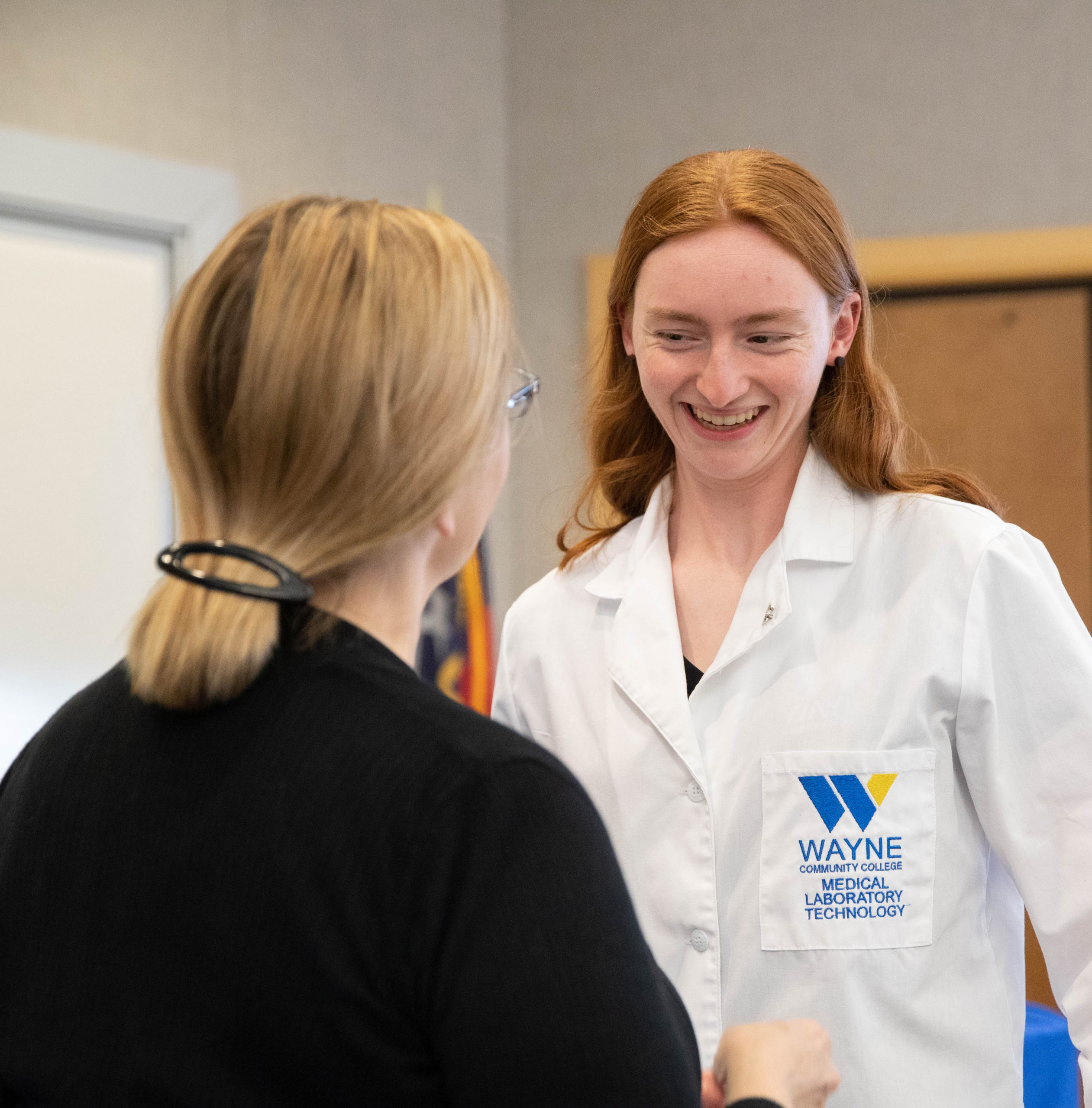 "I originally was accepted into UNC Wilmington, which was my dream school, but I turned it down to attend community college because my family could not afford the tuition of a four-year school," Landry said. "I knew I wanted to do something in science and research and someone suggested the MLT program to my mom."
"Now I have a skill, a job, and exactly zero dollars in student debt thanks to the Bison Benefit Scholarship," she said.
As a WSE student, Landry had been dual enrolled at WCC, which made her eligible for the Bison Benefit Scholarship provided by the Foundation of WCC. It is a renewable tuition scholarship available to Wayne County high school graduates who completed six hours or more of college credit at WCC while in high school. For more information on this or other Foundation scholarships, contact the Foundation at (919) 739-7022 or [email protected]
"Some of the best educational opportunities are in the community colleges, and North Carolina excels in this area," Landry's mother, Melissa Harrell, said. "My daughter received her Med Lab Tech pin making her the third generation to graduate from the NC community college system."
Melissa's mother completed her Associate Degree Nursing training at Surry Community College (SCC) and launched her career. "My mother had me at 17 so she never thought she would achieve her dream of being a nurse, but thanks to SCC, she did while raising two kids," Melissa said.
Melissa also graduated from SCC then transferred to East Carolina University and earned a bachelor's degree that led to further education and a career she loves, too. She currently serves as the mental health coordinator for WAGES Head Start and Early Head Start in Goldsboro and a professional counselor.
When she saw a need in the community – an injury at a soccer game and no one available to assist – Melissa again turned to her local community college and earned Emergency Medical Technician certification from WCC. That training is also valuable in another realm of her life: "This knowledge is helping me be a part of launching a mobile medical clinic in Guatemala," she said.
With this much of a community college legacy, it was no surprise that Melissa encouraged Landry to try WCC.
"My mom and Nana's choices weren't an influence on my decision at first, but as my mom explained to me that she and her mom had attended community college, it made me feel more sound in my decision," said Landry. "Had my mom not attended community college, who knows if she would have been as open to it. Most people push the four-year university so much they overlook their other options."
And as for the field, she also followed her mother and grandmother into a health occupation and chose Medical Laboratory Technology.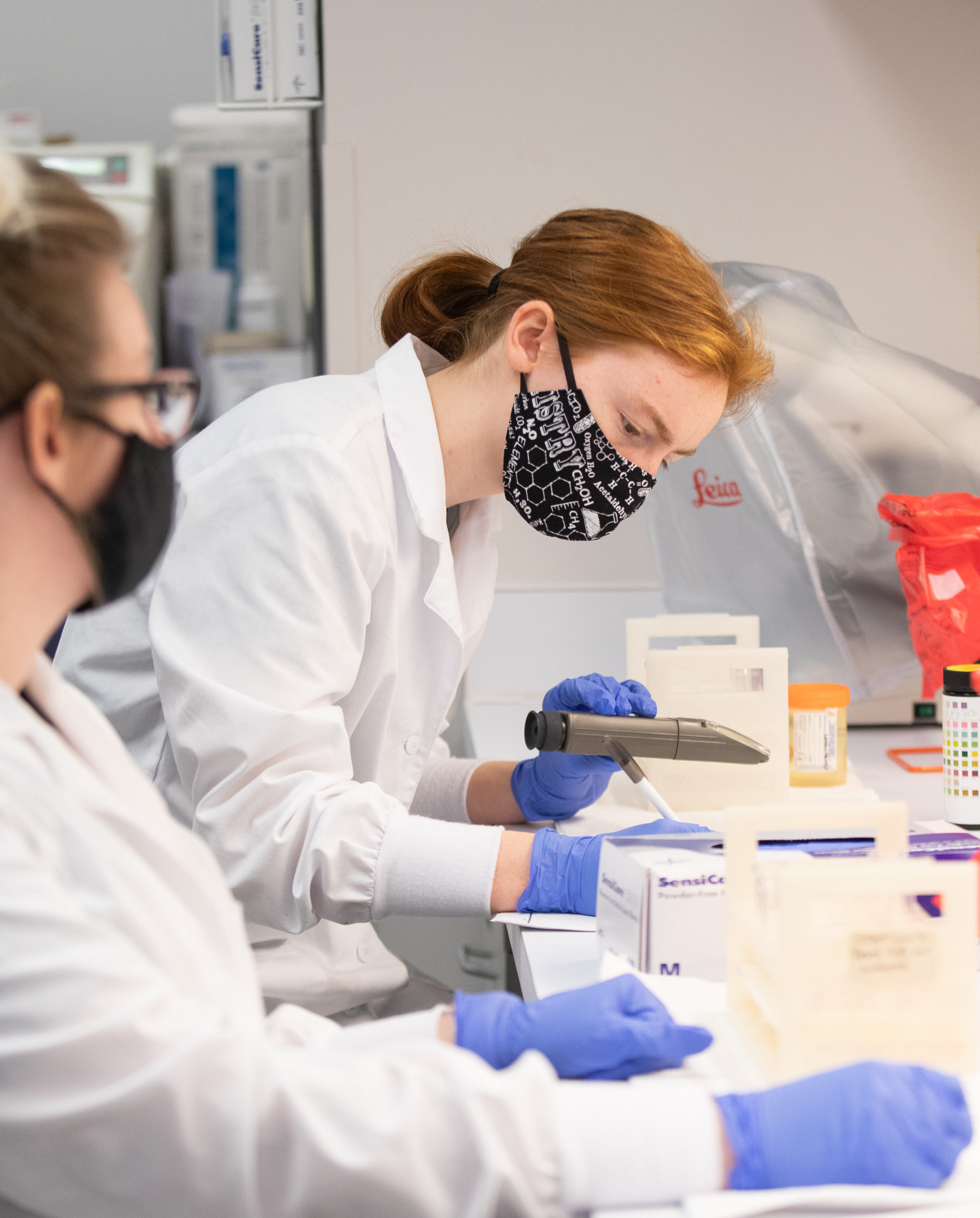 "I would highly recommend WCC's MLT program," said Landry. "The lab there is really great for hands-on experience and my instructors were so great. Jolene Simmons has been an excellent program director as well as in the role of instructor, and Christine Wiethorn also made for an excellent instructor. Both have tons of experience to discuss and are very accommodating to students."
Landry now works in the lab at Wayne UNC Health Care as a generalist and is training to work in all departments of the lab: hematology, chemistry, blood bank, and microbiology.
WCC's MLT graduates typically find employment within six months of graduating. They are in demand in hospitals, physicians' offices, medical and diagnostic laboratories, and even institutions of higher education.
"There are jobs for lab techs at medical facilities everywhere," said MLT Program Director Jolene Simmons, "and travel techs are a thing, too."
During WCC's five-semester program, Landry, the recipient of the MLT Outstanding Student Award in 2021, was trained to perform clinical laboratory procedures in chemistry, hematology, microbiology and immunohematology through classroom learning and clinical work.
Graduates like Landry take the national Medical Laboratory Technician certification examination given by the American Society for Clinical Pathology (ASCP) Board of Certification. The pass rate for this exam for WCC graduates is better than 95 percent.
The certification is portable, meaning it will be honored anywhere, which is one reason why the program is especially attractive to military spouses, Simmons said.
Simmons is herself a 2017 graduate of the WCC program. She continued her education to earn a bachelor of science degree in Clinical Lab Science from Winston-Salem State University. She holds Medical Laboratory Scientist certification from the American Society for Clinical Pathology.
Winston-Salem State University is one of two universities with which WCC has articulation agreements. The other is the University of Arkansas for Medical Sciences. Both allow graduates of WCC's program to transfer seamlessly into their Clinical Laboratory Science or Medical Laboratory Science bachelor's degree programs.
Although she doesn't know yet where she will go, Landry does plan to continue her education and earn a bachelor's degree in Medical Laboratory Science, "in the near future. As of right now, I'm taking a much-needed school break and starting my career."
MLT is a limited-admission program that requires potential students to apply specifically for the program. The application with all requirements for entry are available at waynecc.edu/healthadmissions.
In addition to tuition and textbooks, costs of this program include a watch with a second hand, uniforms, shoes, lab coat, American Heart Health Association Basic Life Support CPR certification, physical examination, and immunizations. Students must also have access to reliable transportation to attend clinical practicums at off-site facilities.
The MLT program at Wayne Community College is accredited by the National Accrediting Agency for Clinical Laboratory Sciences (NAACLS).
Learn more about WCC's Medical Laboratory Technology program at waynecc.edu/mlt or contact Jolene Simmons at [email protected] or (919) 739-6781.